Many whitewater venues are designed for the Olympic Games and then, post-games, the owners cobble together a rafting operation. History has shown that this approach stumbles with venues being either abandoned, as in Greece, or requiring expensive retro-fits that seek to improve the rafting experience so that it can sustain itself. Better whitewater athletes emanate from better training facilities, which has been the sole focus of many existing whitewater facilities. Yet, a development process defined by competition standards and requirements alone has resulted in unsustainable and poorly performing venues. By broadening the design criteria to include ALL users of these venues, whitewater parks can meet the desired competition standards while also maximizing their long-term viability.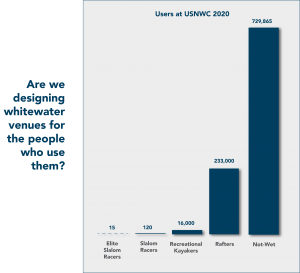 THE S2O MODEL
The S2O Model is a strategic method of venue design that looks beyond the whitewater course solely as a competition setting, and instead utilizes both mass and scale to create an intrinsic outdoor lifestyle destination.
Our design evaluation process captures the requirements, desires, and constraints for ALL potential uses and users, not just competitions and athletes — i.e. recreational rafters, private kayakers, spectators, complementary and special events, broadcast tv, venue operations, etc.
It centers on incorporating a range of complementary outdoor activities, green spaces, events, and opportunities for broader community gathering that serve the people and the community between major competitions.
Our process works through multiple layouts and user-flow diagrams in order to understand the feasibility and efficiency of a proposed design, and ensures a design accommodates all user types in a manner that avoids conflicts. User-flow diagrams for rafters, recreational boaters, instruction, rescue, spectators, athletes, and operators clearly define activity nodes and spaces throughout the venue and work as a catalyst for its final design.
S2O Design's user-based design methodology addresses:
Whitewater channel(s)
Landscape Architecture
Ancillary recreation
Parking
Spectator areas
Event Overlays
Lighting & Signage
Marketing
Maintenance
Security
Some U.S. Examples employing The S2O Model:
U.S. National Whitewater Center, Charlotte, N.C. – the U.S.'s largest and most successful pump-driven whitewater destination, this 1,300-acre outdoor sports and recreation complex offers more than 30 land- and water-based activities. Demonstrates specific design features tailored to maximize profitable rafting operations.
Riversports Rapids, Oklahoma City, Okla. – the world's first pumped-park design that offers a recreational channel, a competition channel, and a combined-flow freestyle channel in the same whitewater venue; it is part of the larger OKC Boathouse District Campus encompassing a flatwater race and training channel, recreational and local collegiate boat houses, a high-performance training center, and an adventure center equipped with zip-lines, climbing wall, and high ropes course.
Montgomery Whitewater, Montgomery, Ala. – this 120-acre outdoor adventure center currently under construction will feature recreation and competitive whitewater courses, climbing walls, high ropes course, hiking and biking trails, an amphitheater, and restaurants.