PADDLING LIFE: Boise Gets Rockin' Whitewater Park Expansion
August 2, 2019

by Eugene Buchanan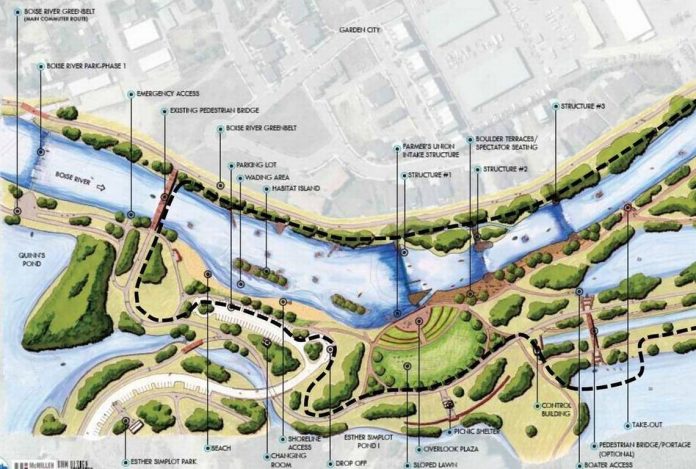 Located in the middle of downtown on the Boise River, Phase II of the Kathryn Albertson Family Foundation Boise Whitewater Park, designed by S2O Design, officially opened to great paddling panache with a standing- (and surfing-) room only crowd on the river's banks downtown.
Already close to some of the best whitewater in the country, Boise, Idaho, is now giving paddlers (and surfers) another reason to visit the Gem State: a gem of a whitewater park, whose second phase celebrated its official gran opening and ribbon-cutting on July 25.
With The first phaseof the park already a huge hit with surfers, kayakers and spectators, Phase II, which Boise Parks and Recreation Director Doug Holloway says is a great addition to the existing park, adds additional in-stream, adjustible features, employing S20's patented Rapid-Bloc technology.
"It's a great addition and extension to the existing whitewater park," says S20 founder and president Scott Shipley, who attended the opening ceremonies to surf the wave himself. "It's a perfect river and location for this type of park, which should become a great focal point for the town."
Phase II includes three purpose-built wave features, as well as a rock formation creating additional rapids. The new wave features, spaced 25 to 50 yards apart, allows users to put in at the start of the existing park and circle back through Esther Simplot Park ponds and into Quinn's Pond, back near the start.
Holloway says the entire park is now "an aquatic complex" that includes spectator seating and Greenbelt paths along both sides of the river between Esther Simplot Park and Veterans Park Pond. "It's kind of almost two parks in one," Holloway said.
The park was designed to provide tubers, paddlers and surfers of all levels an environment conductive to recreational and competitive paddling, viewing, and access. The uppermost feature—tested via a
1:4.5 Froude-scaled model constructed in a flume at the University of Idaho Modeling Lab—is designed to be adjustable and to be transformable from a wave to a hole, for surfers and kayakers.
"The model allowed us to create a hydraulic similarity between simulated flows and those in the proposed channel, as well as test and profile varying geometries," says Shipley, a three-time Olympian and three-time World Cup slalom kayak champion."The lab could calibrate incoming flow velocities to those predicted by a 2D model, fine-tune tail-water elevation via the adjustable RapidBlocs system, and create a final wave configuration that's usable by surfers and kayakers and is adjustable across a wide range of flows and hydraulic conditions."
All we know is that — like the nearby North  and South Forks just a stone's throw away — it's a gem of a piece of whitewater.