Conceptual and Feasibility Design Study
April 30, 2018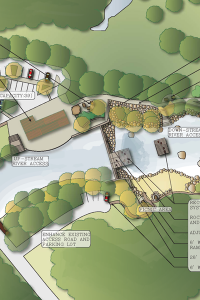 One of our most common tasks at the outset of a whitewater park project is to initiate the effort with a Conceptual and Feasibility Design Study
My name is Dusty Stinson—owner and founder of Coosa Outfitters in Gadsden, Alabama. Our outfitter's store has the distinction of being the best place to buy whitewater boats and equipment in the "Store not near Whitewater" category. We are located just off of interstate 59 and have a thriving business in spite of the fact that there is no whitewater in this town today. I believe that our existence alone showcases the opportunity to create whitewater in this town. We already know that whitewater people come to Gadsden; I want to build a whitewater park here so that they will stay.
Gadsden is a former steel-mill town. We're the type of place in which you would least expect to find a whitewater park. People here are traditional and our economy has historically been based on traditional means. Now that the steel mill is gone things are changing in Gadsden—we are proud of our heritage as a manufacturing center but would also like to evolve our economy to the realities that now surround us. One of the ways I'd like to do this is to develop a whitewater park that showcases our Town's history and that draws people into town to learn a little bit about us and maybe drive our economy a little by staying in a hotel or eating in a restaurant.
I worked with my Town to try and find funding options for the project through a number of differing avenues but, to be honest, a whitewater park is a new concept for most folks here and it was hard to gain traction. In the end I read about Scott Shipley at S2o Design in a magazine and began to work with them to see if they could help our project develop a vision and get off the ground. Gadsden was willing to foot the bill for a site-visit and concept design study and Scott flew out to meet with myself, the Town Mayor and Town Manager, and the local Tourism Director.
Within six weeks S2o had identified a site, developed a concept design, project cost, and report that described the challenges and opportunities for the project. This information mapped the way-forward for our project by giving me something I could speak to—here is what the project looks like; here's what it does; here's what it costs; and here's how we get it moving. This was something that we could use to get the project off the ground.
The design that S2o used was also highly innovative. S2o chose a site that was at an existing dam and created a design that would leverage the energy there while providing for fish passage and improving navigation on our creek. The site also had ready-made raw materials to create access, parking, and streamside amenities. My favorite part of the project was S2o's suggestion—and architectural rendering—that utilizes the old pump-house located at the dam as a possible future vendor operation. This was exactly the kind of design that would drive visitors to come of the Interstate and experience both the whitewater and a piece of the town's steel working history.
The in-stream design was also innovative in that it uses adjustable obstacle systems to tune the wave for varying flows. I needed a park in town that would work at low flows for tubing and lessons and at higher flows so that people would come here to boat when the surf was "up". This high-tech solution met all of these requirements and more.
Dusty Stinson
Coosa Outfitters
Recommendations:
Work with your local town or city to get these things started. Its something that is going to benefit everyone and having your City on board from the start is going to avoid a lot of heartache later
Your first objective is to get this Conceptual Design Study done. The last thing you want to do is be in the Mayor's office or a town council meeting trying to sell a project that is completely abstract—you need a plan, a cost, and a route to completion.
Understand your users and design to them—S2o did a great job of this, they understood our Town and so leveraged our Steel-mill Dam and Pumphouse to showcase our history, they understood that we would draw people from the highway who were not yet boaters so designed for tubing and rafting, and they understood we wanted whitewater for the expert as well as beginner so innovated an adjustable design.