Loving a Whitewater Park
April 30, 2018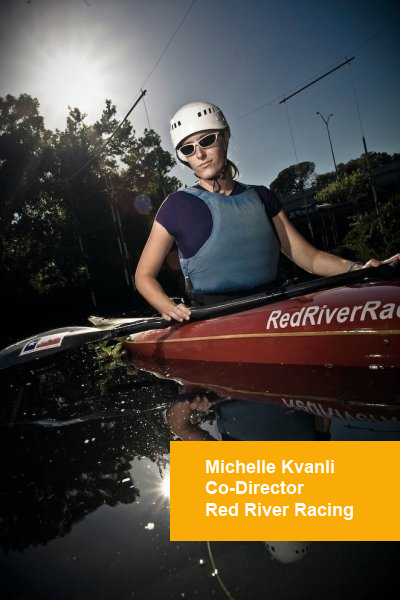 A write-up from one of S2o Design's happy whitewater parks users.  We've heard from many different users who ended up loving a whitewater park:
I'm Michelle Kvanli, one of the founders of Red River Racing in San Marcos, Texas.  We are a non-profit organization that works to get people into kayaks—some for the purposes of going on to be champion racers, some for the joy, challenge, and therapy (yes therapy) of being in a kayak.  We run trips around the country and internationally, but base out of San Marcos.  Our property abuts the San Marcos river just downstream from downtown.
The Rio Vista dam has always been a high-point of our program.  It was a simple single drop structure until it failed in 2006.  We called our friend Scott Shipley, now of S2o Design and Engineering to come work with the City to fix the dam and preserve our best whitewater.  S2o did more than that and created an all-access whitewater park that is used by thousands of people every year.  These folks swim, wade, inner-tube and kayak at the site on a daily basis.  In fact, the new park was seeing so much additional usage that they added lights so we could paddle at night.
The park has had a tremendous effect on our program and on our town.  We now have slalom gates at the Whitewater Park year round.  This has allowed us to host national-level slalom events such as the 2008 Olympic Trials qualifier.  It has also supported a growing group of active racers that use the site.  We also have play boating and surfing at the park.  The draw from this park has had a tremendous effect on our town.  Talk about economic impact!  The park is used by so many people that the City hired additional rangers to help monitor the crowds.
The park has also allowed us to play a key role in the Wounded Warrior Program.  Red River works with returning vets who have been injured or who are still working to integrate themselves back into being home.  We work with them to get them into boats and challenge them—both on the water and off—in an effort to help them find some stability in their own lives.  This is a very exciting program both for our City and our Country so I am excited that the San Marcos Whitewater Park allows us to make this happen.
–Michelle Kvanli, Co-Director, Red River Racing
Recommendations:
Bring in a designer like S2o who will think of your park holistically—not just as a whitewater park.  Scott's work to remove the concrete walls and create access for people of all ability levels adds a lot to how this park is used.
Design for all types of visitors—not just top level kayakers.
Create spaces for events and for programs—these are what provide the most impact to your "dry side" community!
Welcome everyone to your park including the inner-tubers and waders and BBQ'rs.  This is not just about top level niche athletes!