Poudre River Whitewater Park Recognized with ASLA Award
October 1, 2022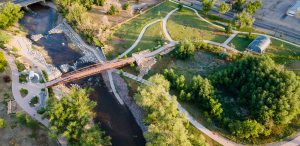 The American Society of Landscape Architects (ASLA) has recognized the Poudre River Whitewater Park and the City of Fort Collins, Colo. with its Merit Award in Professional Design in the design over $500k category.
S2O Design & Engineering was proud to be part of this dynamic team, providing design, planning, permitting, and construction services to the $12 million project. S20 Design was chosen because of its expertise with whitewater park development and familiarity with the market.
"We are very proud to have been a part of this paradigm changing whitewater park that includes the whitewater elements, a city park, and connections to the greenway that allow for walking and biking connections throughout the city," said Scott Shipley, S2O Design's founder and president.
The Poudre River Whitewater Park was recognized for directly addressing environmental, economic, and social needs.
The popular river park features two in-river whitewater play waves that attract kayakers, paddleboarders, and tubers. The upper feature is designed for beginners while the lower feature is for more advanced paddlers. A pedestrian bridge over the river provides a critical link to the regional trail system, providing park access for pedestrians and cyclists from across the community, and a prime vantage point for watching river enthusiasts working the waves in the river below.
Removal of a large diversion structure on the river was central to restoring the river morphology, enabling the river to function as a river as opposed to a small reservoir. Fish passage channels integrated into the whitewater features enable small native fish to move freely up and down the river. The park includes extensive native restoration of the riverbanks, including over 3,000 willow whips and other riparian and native species.
The park creates new economic activity in this industrialized area. In addition to a boost for local businesses from thousands of park users, new development emerged nearby almost immediately following completion of the park.
See more information about the award at https://www.aslacolorado.org/award/poudre-river-whitewater-park.
#riverrestoration #whitewaterpark #designaward #civilengineering #hydrology #paddlesports #kayak