S2o Design Partners With Dane Jackson
Innovators in whitewater course design see synergy with athlete who is writing new chapters in the evolution of whitewater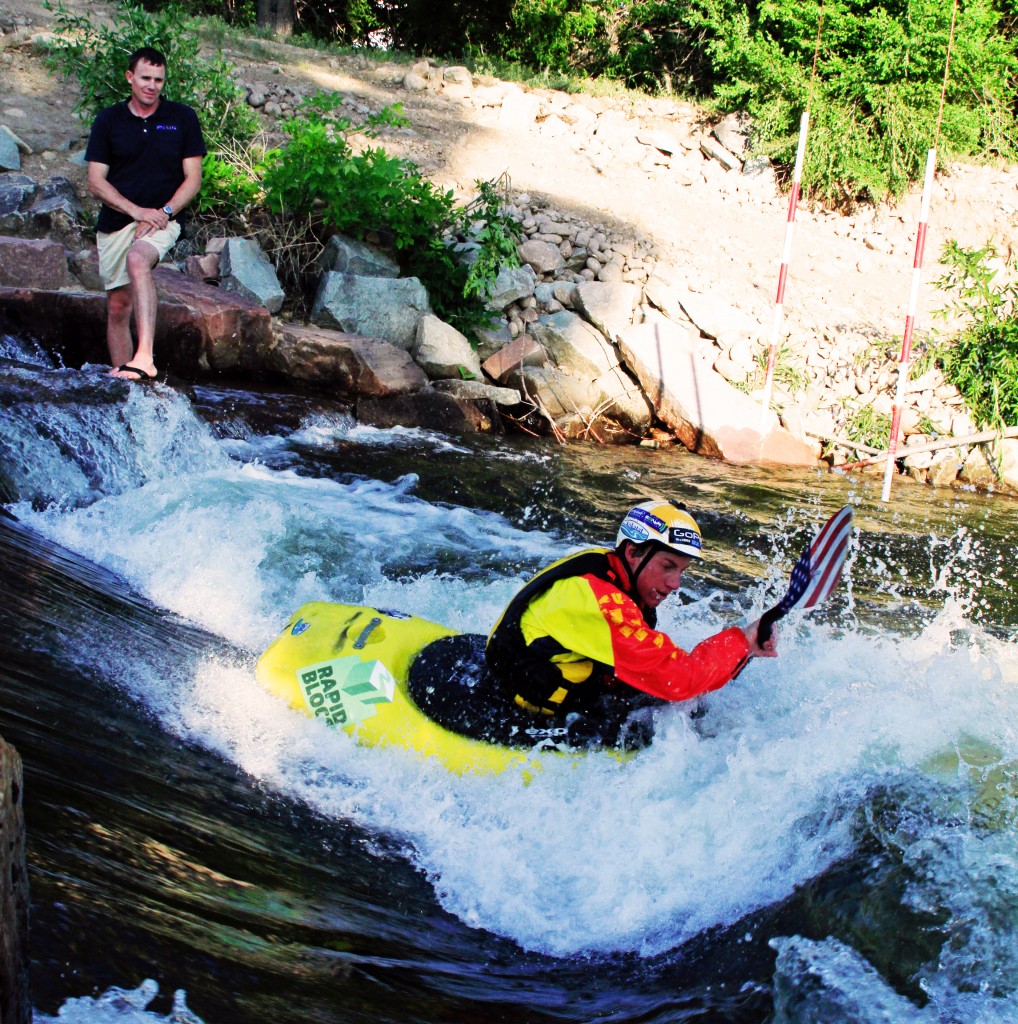 Lyons, CO – RapidBlocs, a division of S2o Design and Engineering, has signed Dane Jackson to an exclusive partnership as both seek to influence the future of whitewater kayaking.
Olympian and World Champion Scott Shipley, founder, president and lead engineer of S2o Design, believes the synergy between his company and Jackson is natural. "We're a next-generation whitewater park design firm and no one more than Dane represents the next generation of whitewater paddlers," Shipley said.
Shipley has known the Jackson family since he and Dane's father, four-time freestyle kayak World Champion Eric Jackson were teammates on the 1992 US Olympic Slalom squad. Shipley has known him since Dane Jackson was a baby and has watched closely for the past 18 years as Jackson not only followed in but, at times, eclipsed his famous father's footsteps.
"Dane is young, exciting, fun to watch and able to accomplish things in a boat that could not have been imagined just a few short years ago," Shipley said, what better way to ensure our parks are pushing the edge of the design envelope than to design to the needs of Dane Jackson." Dane won three gold medals at last year's ICF Freestyle World Championships and a few weeks later, swept up three more Golds at the USA Canoe Kayak National Championships.
For his part, Jackson will serve as an ambassador for S2o and the company's proprietary RapidBlocs system, developed with European partner EPD. RapidBlocs is the world's first three-dimensional, moveable obstacle system that enables whitewater course managers to easily shift the configuration of the blocks to change the hydrology of the course, thus keeping it versatile and fresh for years after initial construction. RapidBlocs first deployment is at the site of the London 2012 Olympic Slalom Course.
Jackson said he believes S2o has the ability to help move whitewater paddling forward by designing innovative whitewater courses and river parks that will make learning and training more accessible to more aspiring paddlers.
Shipley believes signs are pointing to a future where there is more crossover between slalom and freestyle. Two relatively new events including the fledgling T'Ville Triple Crown in New England, the two-year-old Invitational Whitewater Grand Prix in Canada, and a couple whitewater festivals in Europe combine slalom times and freestyle points among other events to determine an overall winner.
Shipley added that more and more clients, notably including those seeking to host future World Championships and Olympiads, are asking for freestyle features to be incorporated into whitewater course designs.
Ultimately, both Shipley and Jackson dream of a future when the International Olympic Committee designates freestyle as an Olympic discipline. Currently, only Canoe Sprint and Canoe Slalom are Olympic disciplines.
ABOUT S2o DESIGN. Founded in 2003 by Scott Shipley, S2O Design prides itself on innovative and holistic approaches to whitewater park design that ensures clients get a park that meets all their economic, environmental and recreational objectives. Committed to reinventing whitewater, S2O is the only design firm that has developed patented solutions that make whitewater parks easier and more profitable to operate as well as more enjoyable for whitewater enthusiasts of all skill levels. For more information, visit the S2o Design website.
ABOUT DANE JACKSON. Hailing from the First Family of Whitewater, Dane Jackson has been heralded by some as the future of the sport. The holder of numerous National Championship titles and World Championship medals, in 2011, Jackson became the first person to ever medal in all four freestyle disciplines in a World Championship with Gold in Junior Men's K-1, Men's C-1 and Men's Squirt; Bronze in OC-1. Weeks later, Jackson repeated the feat at the USA Canoe Kayak National Championships, winning Gold in every event except Squirt, which was not offered. Jackson was named US Olympic Committee Athlete of the Month in June. For further information visit Dane's page at the Jackson Kayak website.