Poudre River Whitewater Park adds recreation, economic growth to northern Colorado.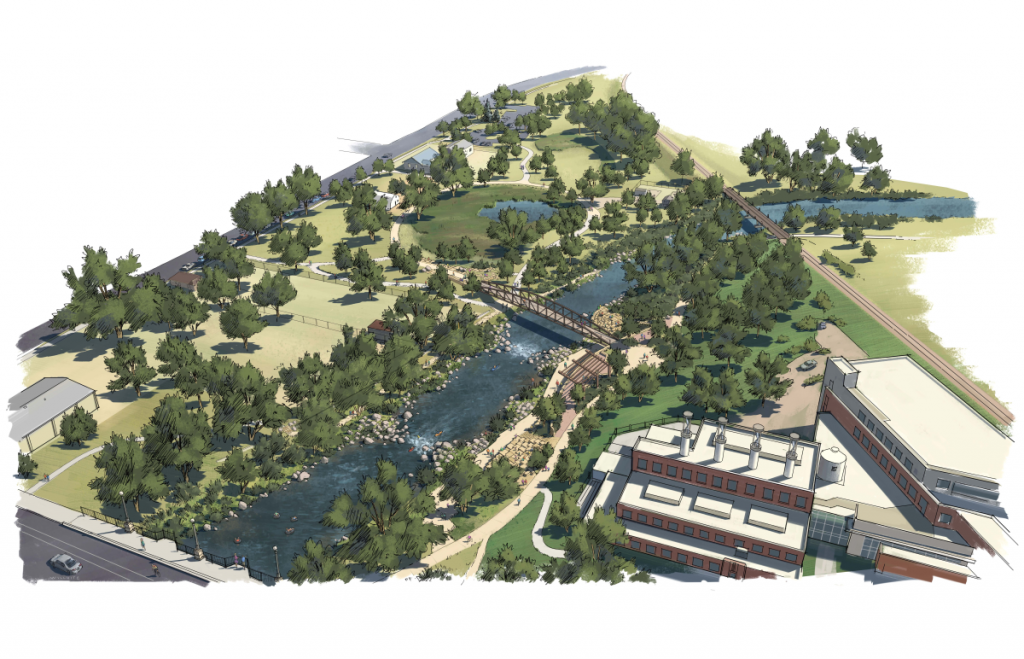 Coursing through the heart of downtown Fort Collins, Colo., the Poudre River is now home to the country's newest whitewater park. Driven by river park engineering firm S20 Design and Engineering, the new whitewater park features a series of waves for rafters, kayakers, and stand-up paddleboarders, a wading area for families, a pedestrian bridge, and extensive bank reconfiguration. The project, located near Old Town at Vine Drive and College Avenue, brings the river back to a more natural state, provides the community a greater connection to the river, and invites economic development to the area.
"The Poudre has always been a classic Colorado destination for river running, and now its recreational amenities will be more accessible than ever," said S2O Design founder Scott Shipley. "Not only is it a beautiful site for a river park, it's also a perfect example of various entities coming together to create a great focal point for the town."
Lyons, Colo.-based S2O Design provided design, planning, permitting, and construction services to the project. S20 was chosen because of its expertise with whitewater park development and familiarity with the market. The park will officially open in September 2019.
Design and construction of the Poudre River Whitewater Park was a complex process with several moving parts and a broad array of stakeholders. S2O Design was charged with converting the dangerous Coy Diversion Dam, which was a barrier to fish passage, into a usable park area that also encourages fish migration. The river features needed to provide low- and high-water functionality to a wide variety of users, with extensive bank restoration and reconfiguration to bolster animal habitat and improve stormwater management.
Funding the $12 million project was achieved through both public and private partners. The city's Building on Basics tax initiative, a program introduced in 2015 for community improvements, contributed $7 million; the city's Storm Water, Natural Areas, and Parks and Rec departments contributed $3 million; and private donations totaled more than $2 million, including a $1 million gift from longtime Fort Collins residents Jack and Ginger Graham.
"The Poudre holds a very special place in our city's history," said Jack Graham, former U.S. Senate candidate and Colorado State University athletic director who spearheaded the school's new on-campus stadium. "It has been in need of some TLC for decades and the park's environmental repairs and restoration, coupled with its recreational features, will bring needed energy and economic development to the River District and downtown."
Fort Collins Mayor Wade Troxell added, "The river, and its new park, is a true treasure for our community and a legacy for our future. It will build community, strengthen our downtown, and contribute to our vibrancy and prosperity."
Bringing the project to fruition was a long time coming. It was formally approved by voters in 2015 as part of the city's Community Capital Improvement Program, but was in the works for nearly 20 years prior. "We first started talking about it way back in 1986, so it's great to finally see it come to fruition," says Tim O'Hara, a commercial photographer who served as the lead fundraiser for the project.
Previous efforts at building a river park there had stalled. Shipley, who holds a master's degree in Engineering and is also a three-time Olympian and World Cup slalom kayak champion, was able to organize the project's multiple stakeholders, navigate the long public process, and drive the design decisions that led to its final construction. "A lot of other companies had looked at this, but we were the only ones who were able to get it done," said Shipley.
S2O Design has completed several other river recreation and restoration projects in Colorado, including the Eagle River Park, Durango Whitewater Park, Canon City Whitewater Park, and Bohn Park in Lyons, Colo.
About S2O Design
S2O Design is an engineering firm specializing in innovative river engineering, restoration, and community-focused whitewater park design. Our team of expert boater-engineers has planned, conceived, designed, and created some of the best in-stream whitewater parks as well as largest and most dynamic recirculating whitewater parks in the world. S2O Design is led by engineer, Olympian, and three-time World Cup Kayak Champion and Freestyle Kayak Champion Scott Shipley. For more information, visit S2ODesign.com.