River Corridor Master Planning
April 30, 2018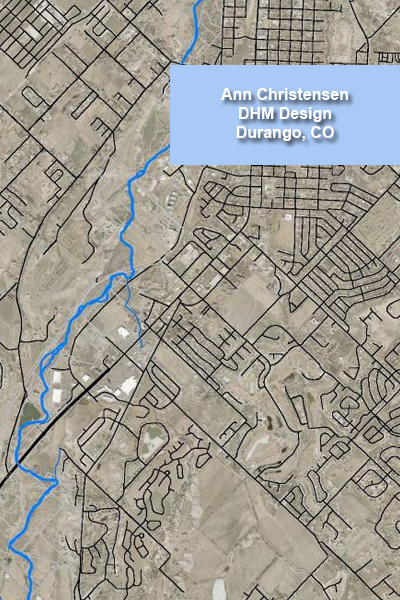 Discovering the Uncompahgre River Corridor as a community amenity
S2o has led, or has been a team member, on a number of river corridor master planning efforts.  These projects serve to plan a corridor respecting the river's natural morphology, and the habitat that it fosters, and serves to integrate the community with this river in a way that allows for recreation, access, smart development, and the preservation of beautiful natural areas, amongst other priorities.  This is the story of one of our projects as told by the team we worked with:
The City of Montrose is located along the Uncompahgre River.  Historically, this City supported agricultural and industrial land uses. To this day, gravel mining, for example, remains a significant source of income, supporting the growth of surrounding mountain towns and resorts.  Over the past decade, commercial and residential housing developments have in-filled closer to the river, largely isolating the river from public access. Montrose responded to community interests in protecting and enhancing the Uncompahgre as a public amenity by investing in planning with the support of Great Outdoor Colorado lottery funding. Currently, the river is only occasionally floated due to limited public ownership of the adjacent property and lack of access points. Montrose is just a pass-through for those visiting the famed M-wave on the Gunnison River outfall. Our project was tasked with improving public access and usage along this river corridor.
As a landscape architect and principal with DHM Design, I led the effort to prepare a master plan that describes a vision for the future of the Uncompahgre Riverway through Montrose by building on the existing natural characteristics, urban connections and broad community support. I hired Scott Shipley to examine the potential for the river to host whitewater activities. Scott found that the river characteristics support a variety of potential features and that the flows regulated by releases through the upstream irrigation system and reservoir provide consistent levels late in the season when many other rivers are low. Our team was also augmented by Walsh Environmental for ecological assessment and RPI Consulting for community input facilitation.
Scott provided a well attended presentation of whitewater parks around the world and the benefits they bring. The Montrose community showed tremendous interest in having their own whitewater park, not only for their own recreational use, but for events and spectators. Montrose supported the idea of a whitewater park drawing tourism and awareness of the larger river corridor as part of their identity. After examining the corridor with us, Scott described a number of possibilities ranging from family friendly tubing features to a competition worthy challenge course.
Master planning for a community is not easy—it can be especially difficult when including a dynamic amenity such as a whitewater park.  These parks have the potential to host extremely well-attended events.  As a potential draw to many people, each chosen location must fit within the community infrastructure, anticipating the need for vehicle and pedestrian access, parking, and restrooms. River banks can be enhanced to provide paths, hardened points for access and informal seating through the deliberate placement of boulders. Within the larger community, Montrose is particularly interested in providing a draw that supports river oriented cafes and retail shops.
With many features possible, the challenge is bringing them within reach of tight budgets. Our team identified an ideal opportunity by selecting an existing park to include our future Whitewater Park.  In this way, with relatively low investment, whitewater elements could be introduced without re-investing in infrastructure and parking.  This locationquickly gained the benefit of greater visibility and increased tourism that would in turn support additional investments. As part of a collaborative effort, the master planning process started discussions with the water district, Bureau of Reclamation, City engineering, and other agencies that have the potential to partner for the replacement of aging structures in a way that weaves whitewater features into a solution that will have many benefits for this little City that reach far beyond the scope of creating a simple play-wave.
Lessons:
Design of whitewater parks must consider potential impacts to the surrounding community in terms of traffic, access, parking, and public access.
By drawing attention to the whitewater features, awareness of the entire river corridor is gained, supporting investment in the overall health of the river system.
Partnerships hold great potential to bring whitewater elements within reach with cost sharing.
Collaboration with the widest range of river stakeholders is critical to gaining support for a successful project.