PRESS RELEASE: S2O Design Drops New "Whitewater Park Toolkit"
April 1, 2020
New guide shows paddlers how to take a local river park from an idea to reality.
LYONS, COLO. (April 1, 2020) – Well-designed, whitewater-centered river parks are transforming underutilized or inaccessible rivers into treasured community assets. Paddlers interested in championing a project in their own community now have a resource to help make it happen: the WHITEWATER PARK TOOLKIT – A Paddler's Guide to Championing a Local Project. Produced by S2O Design and Engineering, the world's leading whitewater park design and river engineering firm, the Whitewater Park Toolkit provides an inside look at whitewater park design and development and shares what it takes to initiate a river park project locally.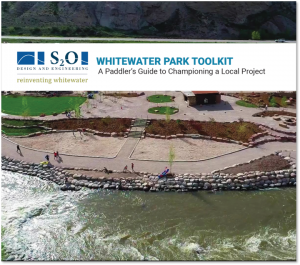 "We've built dozens of successful whitewater parks across the country, and nearly every one was set in motion by a paddler who simply had a vision and took the first step to make it happen," said S2O Design founder and president Scott Shipley, a three-time Olympian and three-time World Cup whitewater kayak champion. "This Toolkit is designed to foster that enthusiasm and engagement and help take a local river park from an idea to a reality."
The Whitewater Park Toolkit provides a general understanding of the process, players, and costs involved in building a fun, safe, and environmentally friendly river park, while illustrating that successfully building one requires a mix of planning, preparation, and passion.
The Toolkit includes sections covering site and river considerations, the design and development process, the costs involved, funding opportunities, identifying community stakeholders and key decision-makers, and building municipal and community support. It also addresses the role of the Feasibility Study and Economic Impact Study, and delves into working with river engineering and whitewater park design specialists.
"We're proud to both create the Toolkit and have it in our arsenal to help river and paddling enthusiasts find their joy in paddling locally," Shipley added.
S2o Design has planned, designed, and built some of the highest profile whitewater venues in the world, including the US National Whitewater Center in Charlotte, N.C.; the Lee Valley Whitewater Centre, site of the 2012 Olympics; and the Riversport Rapids Whitewater Center in Oklahoma City. The firm has also designed and built a variety of in-stream recreation projects, including the Durango Whitewater Park (CO), Boise Whitewater Park (ID), Eagle River Park (CO), Poudre River Whitewater Park (CO), and Camphill River Park (Wanaka, NZ). S2O Design has also led numerous river restoration projects, including Denver's River Mile River Restoration Project, the Canyon City River Master Plan (CO), and St. Vrain Creek Watershed Master Plan (CO).