MEN'S JOURNAL: The Latest Wave of Urban Whitewater Parks Are Making a Big Splash With City Paddlers
August 16, 2023

by Eugene Buchanan
Recirculated whitewater parks are re-energizing urban riverfront recreation with state-of-the-art technology that's eco-conscious and a total blast.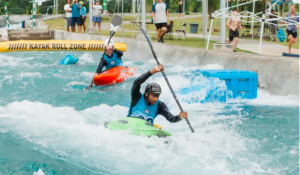 Kelly Slater isn't the only wavemaker bringing surf to the people. While his man-made Surf Ranch joins six other such wave pools in the U.S., wave tech has also come to the world of whitewater rafting and kayaking with a new breed of recirculating river parks making a huge splash around the country. The latest example of "urbanizing" recreation is pump-driven Montgomery Whitewater, a river park that opened July 2023 in Montgomery, AL. It's the nation's fourth recirculating whitewater venue of, no doubt, more to come.
Read the full article here.