BY PATRICK SISSON
May 7, 2019, 12:47pm EDT
Property Lines is a column by Curbed senior reporter Patrick Sisson that spotlights real estate trends and hot housing markets across the country. 
Eagle, Colorado—population 6,500—has mostly existed in the shadows of the state's massive ski resorts, as in nearby Vail, and its recreational economy. But Eagle, a year-round community for those who work for the big resorts, has plenty to offer, including mountain scenery, a picturesque downtown, and 100 miles of easily accessible mountain biking trails. In spite of all this, it has never become a top-tier destination.
This can be attributed in part to the fact that Eagle never truly took advantage of its natural assets, like its namesake river, which formed the valley that is home to the town today. Fishermen and kayakers have always made use of the Eagle River, but it's never been a beacon for visitors, despite its high-profile location along the Interstate 70 corridor.
"A stretch of land next to the river used to be a semi-truck parking lot, basically a pee bottle dumping station," says Jeremy Gross, the town's marketing and events manager. "It just wasn't that inviting."
That's set to change this Memorial Day weekend, when the town of Eagle will celebrate the opening of a $2.7 million whitewater park locals hope will set off a new era of development in the area, and connect the south bank of the river with businesses and residents downtown. The new Eagle River whitewater park is the result of a multiyear effort to redevelop the river corridor, and will feature a series of artificial rapids, as well as a resculpted, repurposed riverfront, complete with parks and an amphitheater.
It will be the latest example of how smaller towns and cities see riverfronts in general, and outdoor recreation specifically, as new economic catalysts. Former assistant town planner Matt Gross went so far as to call the new park "Eagle's beachfront."
"This is just our way of showcasing the asset that we have," says Gross. "It's not like we added the river."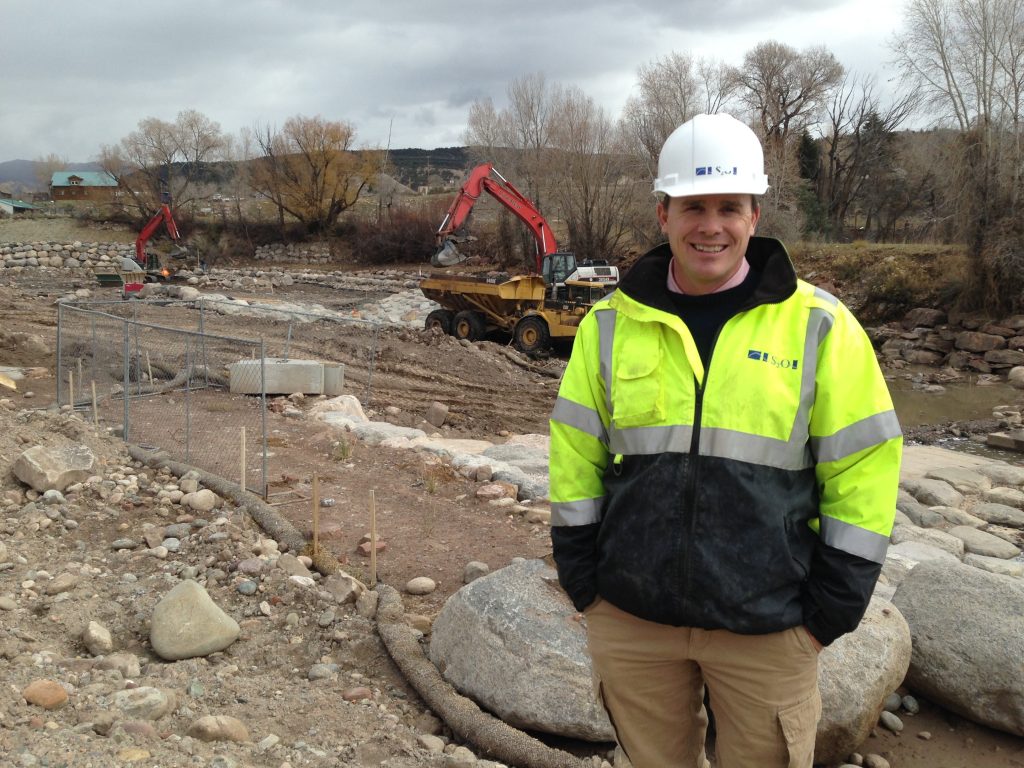 Natural assets get a new lease on life
The Eagle River Whitewater Park is part of a growing number of artificial recreation areas, especially in the Rocky Mountains region, trying to capitalize on the nation's rapidly growing outdoor economy. Eagle believes the new whitewater park can make the town a more well-rounded and attractive destination, furthering the potential of its promising location near mountain biking trails.
According to a 2017 economic study by the Outdoor Industry of America, activities like camping and water sports benefit America's consumers, businesses, and government at all levels. These activities generate a whopping $887 billion annually—about $702 billion by travelers and vacationers—support nearly 8 million jobs, and bring in just over $59 billion in state and local tax revenue. For comparison, the entire nation's financial services and insurance industry generates $912 billion.
Whitewater parks—either parks like Eagle's that resurface and redesign riverbeds to support outdoor recreation like kayaking and rafting, or "pump parks" that create artificial new bodies of water for sport—represent a small part of the nation's huge outdoor industry. They aren't new: The world's first artificial whitewater course, a concrete-channel course called the Eiskanal, was created for the 1972 Olympics in Munich, where the sport made its Olympic debut, and parks have slowly taken root across the western U.S. since the 1980s.
But now that the idea is firmly established, a number of case studies—including an urban development in Reno, Nevada, and the huge boost Charlotte, North Carolina, saw from a national whitewater training and recreation center—point to such parks' economic benefits. They're increasingly being seen as a development tool, not just another entertainment option.
In Eagle's case, it's a project for and by the community, says Scott Shipey, CEO of S2O, the company building the park. Shipley, a former world-champion kayaker who competed in three Olympics, says it's not just a new way to build the sport, but a chance for towns to look at their natural economic assets. The town passed a .5 percent sales tax increase to fund the project.
"A lot of towns have a river running through them," he says. "In the Midwest, there are dams near towns, which used to power industry, that are rotting away. We can give them an experience they didn't have before. Just by doing a little bit of manipulation of that river, they can become the Breckenridge of kayaking. These mining and ski towns are starting to leverage this resource."
Designed with Rapidblocs, a patented S2O system that allows for adjustable riverbeds and rapids, the Eagle Whitewater Park will feature spots for kayakers, rafters, tubers, and even surfers. The waterfront, now filled with parkland and public space, can host festivals and concerts, a big potential boost for businesses downtown.
"Economic development is a slow-moving ship," says Gross. "Now, with a river park close to town, we're hoping that increase in business brings the next business to town, and then a few more people, and then suddenly, there's more development connecting the river to downtown. The river is a big thing we have to offer, it's a piece of the pie."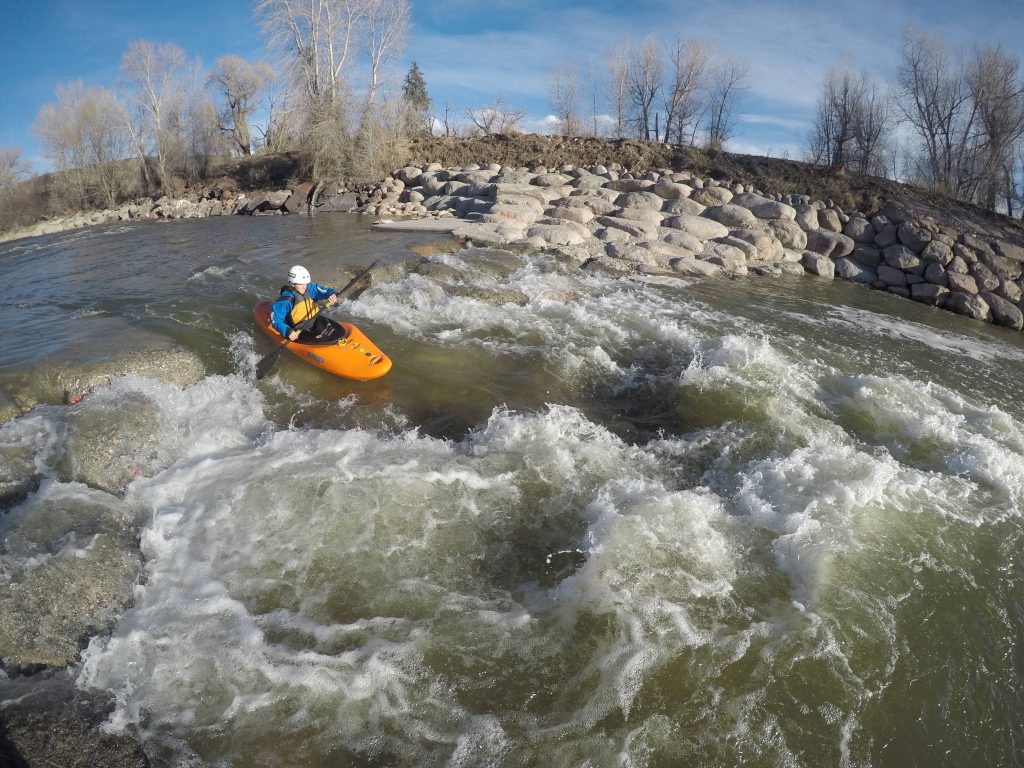 A new addition to beer, bluegrass, and broadband
The renewed push to repurpose riverfront property in more rural parts of the country mirrors what's happening in urban areas like Brooklyn: With heavy industry and factories gone, games, recreation, and public space have taken their place—and become magnets for people and economic activity.
Projects like Eagle's also come as community-building investments in culture have shown their value to smaller cities and towns, the anchors of rural economies. Matt Dunne, founder of the Center on Rural Innovation (CORI), says it's all about bluegrass, beer, and broadband. Rebuilding formerly lively small-town centers with a combination of arts and culture, recreation, startups, and adaptive reuse has proven a winning formula across the country.
Existing projects demonstrate that these artificial rapids can really rev up local economies. In Charlotte, the U.S. National Whitewater Center, which opened on roughly 700 acres adjacent to the Catawba River, welcomes 1 million visitors a year, and supports more than 500 jobs. In Durango, Colorado, the whitewater park on the Lower Animas River generates $18 million a year in economic activity, according to an economic impact studycommissioned by local leaders.
Reno, Nevada, offers one of the best illustrations of how river redesign and urban regeneration can work together. The neighborhood around the Truckee River in downtown Reno had become neglected and crime-ridden ("they turned their back on the river, to keep people inside focused on casinos," says Shipley). Since the $1.5 million whitewater park opened, the streets surrounding the recreation site have seen a boom in new condos, restaurants, bars, and businesses. A 2007 study by the Reno-Sparks Convention and Visitors Authority found that whitewater recreation attracted 13 percent of the approximately 4.3 million people who visit the city annually.
"There wasn't much down there before that, but now the downtown river park is a tourist destination," Ben McDonald, senior communications manager for the Reno-Sparks Convention and Visitors Authority, told High County News.
"There are as many reasons to do this as there are potential parks," says Shipley. "These parks have millions of dollars in economic impact."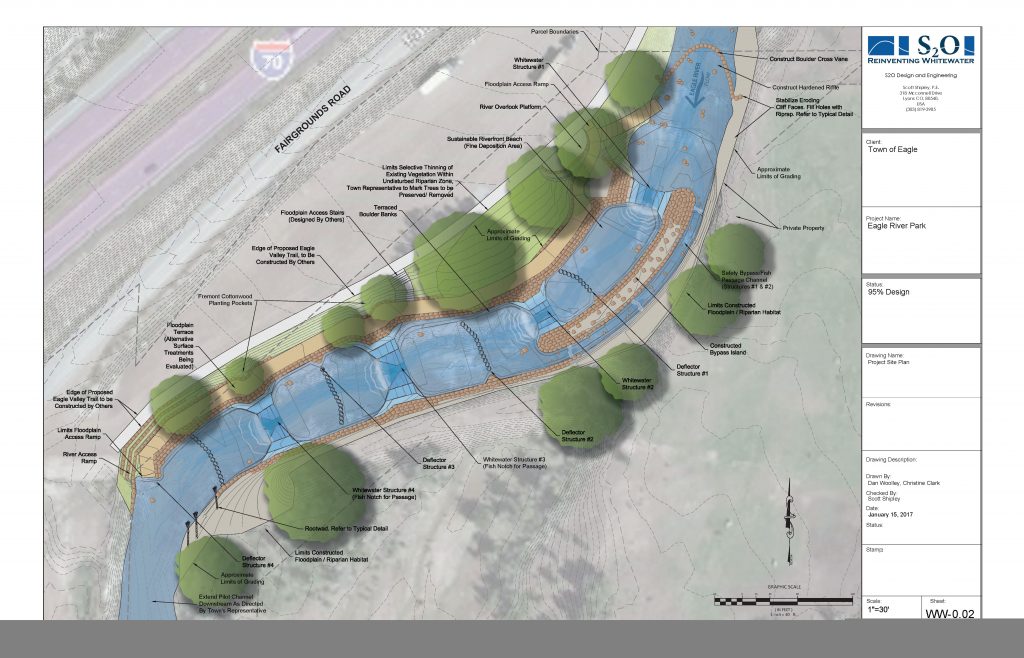 New developments in water sports
Shipley says the industry, which has steadily grown since he founded his company in 2005, will see more expansion. In addition to the soon-to-open Eagle project, S20 is also working on projects in Fort Collins, Colorado; Canon City, Colorado; and Boise, Idaho. The company's Rapidblocs system will be used at the site of the 2020 Tokyo Olympics, and S2O expects more cities, especially in the Rocky Mountain region and the Midwest, to invest in new parks.
Other artificial water sports sites have become an option: Famed surfer Kelly Slater has a company dedicated to creating artificial inland surfing parks, including a site in California's Central Valley. S2O is also looking at more surfing options, and plans to install new technology to support surfers as part of its ongoing work in Boise, Idaho.
For Eagle's Jeremy Gross, the river that goes through his hometown has always had potential. But now, it's more central to the growing Colorado community's narrative.
"If I'm trying to sell Eagle to you, we're a quick two hours to Denver, if you leave after work Friday you can be at Eagle by dinner time, and over the weekend, ride 100 miles of trail, bring a board or kayak and get in the river," he says. "It's becoming more of a well-rounded destination. We're an outdoor adventure paradise."