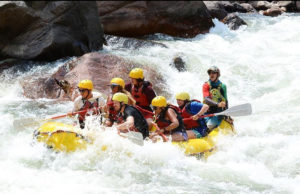 The Charlotte region is about to boast another major whitewater recreation center to compliment the US National Whitewater Center.
Duke Energy's new multi-million dollar project, called the Great Falls-Dearborn Development, will completely revision Dearborn Island, including building a massive pedestrian bridge to the 650-acre island, install three canoe and kayak launches, restructuring water channels into class 2,3 and 4 whitewater rapids, and partnering with South Carolina to develop an entirely new state park.
Duke Energy will be working with S2O Design, designer of Charlotte's U.S. National Whitewater Center, and HDR Engineering to build 2 new bypass channels, with the longest one being about 1 1/2 miles. The new channels will gradually dissipate the reservoirs released energy using switchbacks and a series of progressively challenging waves. Each bypass will use notches and gates to regulate the water flow.
"If you came out here 200 years ago when the river was down, it'd likely look exactly as it is today," said Tim Huffman, Duke Energy's senior project manager charged with implementing the FERC agreement. "The reservoir now has very limited access. When the elements of the Catawba River agreement are put in place, not only will access be improved, the two dried out reaches will have their flows restored for recreational access as well as biological and habitat enhancement."
Work is currently underway at the Nitrolee Access Area and construction on the short and long bypass is scheduled to begin in the second quarter of 2021. The completed facilities are planned to be finished within the next two years.
Source:

https://www.charlottestories.com/duke-partnering-with-sc-to-develop-massive-new-whitewater-center-for-charlotte-region/?fbclid=IwAR12w9OYyNWWvvUYePx8olN3pHuvLi2R8z-obkh1bFqstytvxCMnr-TNhNA